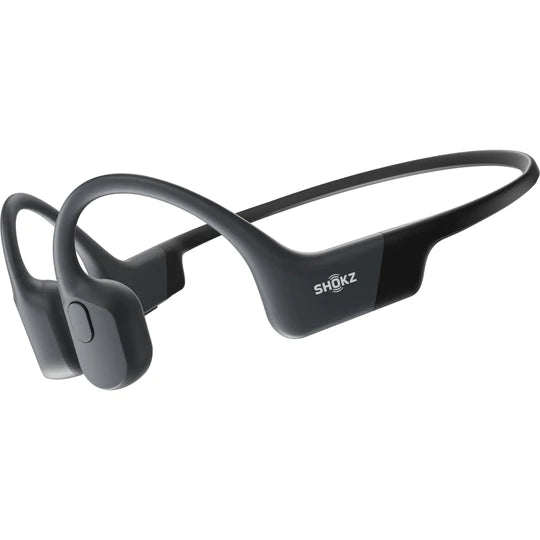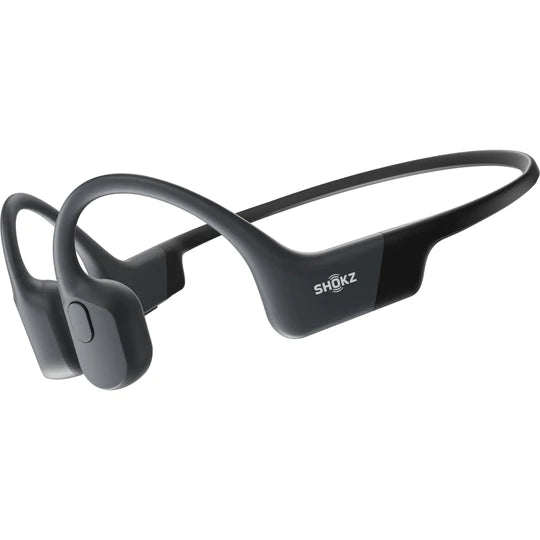 Shokz OpenRun Wireless Bluetooth Headphones
S803BK
by FE Sports
FEATURES
IP67 waterproof rating submersible up to 1m for 0.5hrs. sweat-proof.
8-hour battery life
10-day standby time
5 minutes Quick Charge
Gives you 1.5hrs of usage
Lightweight at only 26g
Titanium Frame for secure fit
Smaller transducer, bigger sound
50% less sound leakage
More bass, less vibration
Moisture detecting alert
WHAT'S IN THE BOX
OpenRun Headphones
Magnetic Charging Cable
Hard Shell Carry Case
User Manual
WHAT IS BONE CONDUCTION?

Bone conduction is the transmission of sound vibrations to the inner ear (cochlea) bones of the skull, which allows you to perceive sound without blocking the ear canal. Even more simply put: it's sound that is delivered directly to the inner ear without needing to pass through the eardrum. Think of bone conduction as a shortcut to hearing sound.
Have you ever plugged your ears and sang a song, but wondered how you can still hear the tune? Or heard the sounds generated from brushing your teeth or eating potato chips? That's bone conduction at its finest, and, along with more commonly used air conduction, your ears have been transmitting sound that way all along!
Unlike traditional in-ear or on-ear headphones that utilise air conduction, Shokz has mastered the natural phenomenon of bone conduction by adapting it to consumer electronics, and it's now the secret behind the success of our open-ear product line. Here's how we've harnessed bone conduction technology to work for our products:
1. Audio Enters The Transducer
Every Shokz audio device features two transducers on either side. These transducers, positioned near the cheekbone, work to convert audio signals into mechanical energy (vibrations) which is then sent to your cheekbones.
2. Titanium Makes Conduction Seamless
The use of titanium in the frame of all Shokz products is not only because of its lightweight and flexible properties, but also because titanium is an ideal metal for properly and efficiently conducting sound waves.
3. Vibrations Are Converted Into Audible Sound
Advances in bone conduction technology have enabled us to create devices that minimize the sensation of vibrations on the temple while still retaining high-quality sound.
I have a question I need help with.
Watt? Watt-hour? Kilowatt?? WHAT? Gets confusing right? That's OK we can answer any question you may have!
More information please