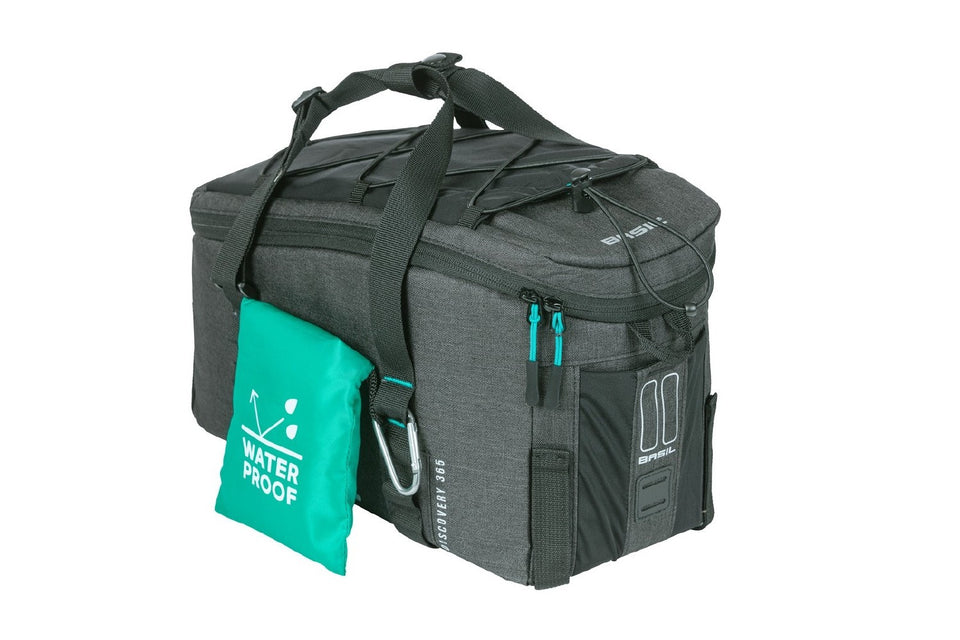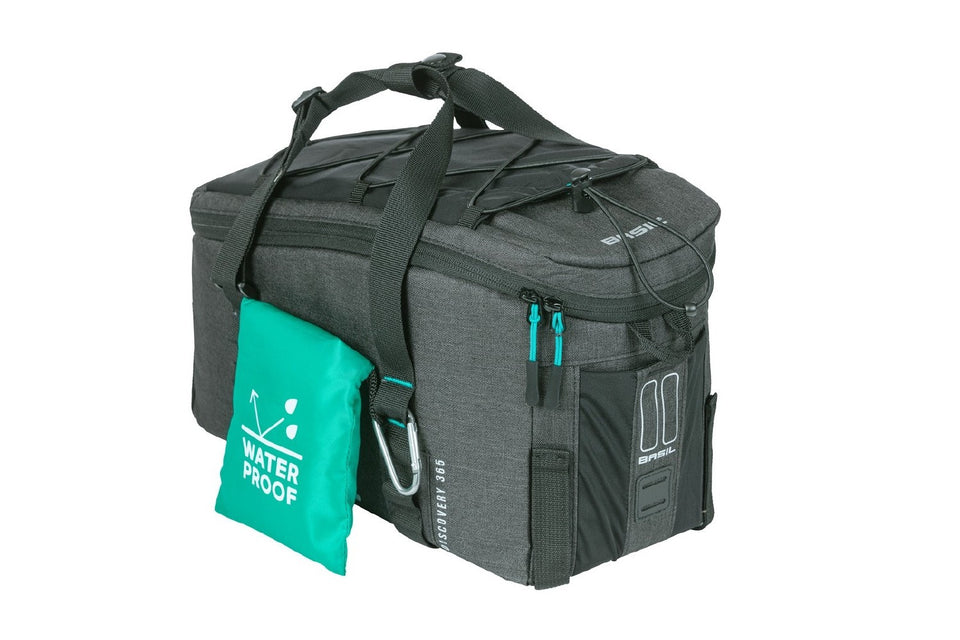 Basil Discovery 365D Trunkbag M 9 Litres
BAS TB 18286
by Basil
Description
Choosing the Basil Discovery 365D M means opting for a dynamic pannier bag with a sporty flair. Crafted from water-repellent polyester in a sleek black melange design, this bag offers a generous 9-litre capacity. Designed for both men's and women's bicycles, it features a convenient carabiner clip for easy attachment. The bag's flap boasts an elastic pocket and practical drawstring closure, ensuring your belongings stay securely organized. Plus, an additional elastic pocket on the side accommodates an extra bottle.
Effortless attachment to your carrier is facilitated by Velcro straps. Compatibility with MIK or Racktime adapter plates is another standout feature of this sporty pannier bag, although these plates are not included. The bag is equipped with a detachable shoulder strap, while its handles can cleverly hold your helmet, providing a convenient storage solution for your headgear.
Features:
The included rain cover ensures the bag always remains dry.
The bottle pocket is ideal if you enjoy riding your bike for recreational touring or cycling holidays.
The shoulder strap on the pannier bag is easily removable.
The reflective sides ensure that you're visible to other road users.
Specifications
Dimensions: 36 x 16 x 20 cm
Model: Trunk bag
Double- or singlebag: Single
Content (Ltr): 9,0
Suitable for: Electric bicycle, city bicycle, city-trekking bicycle
Activity: Recreational, go out
Material: Polyester
Color: Black
System: Velcro or icw adapterplate
Also suitable for: Non applicable
Usage: Luggage carrier
Additional compartment for: Bottle of water
Closure main compartment: Zip-fastener
Laptop compartment: No
Side pocket(s): Yes
Front pocket(s): No
Anti-theft: No
Waterproof: Water-repellent
Fasteners compatible: No
Removable: Yes
Handle: Yes
Carrying capacity : Max. 5 kg
Warranty: 2 years, by the shop from where you purchased the product
Inner pocket: Yes
I have a question I need help with.
Watt? Watt-hour? Kilowatt?? WHAT? Gets confusing right? That's OK we can answer any question you may have!
More information please