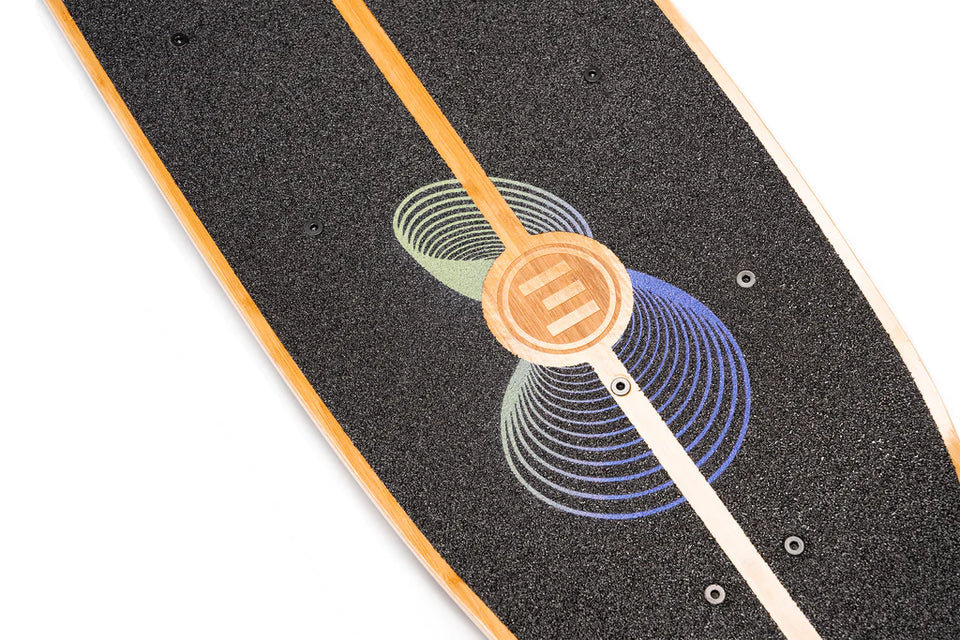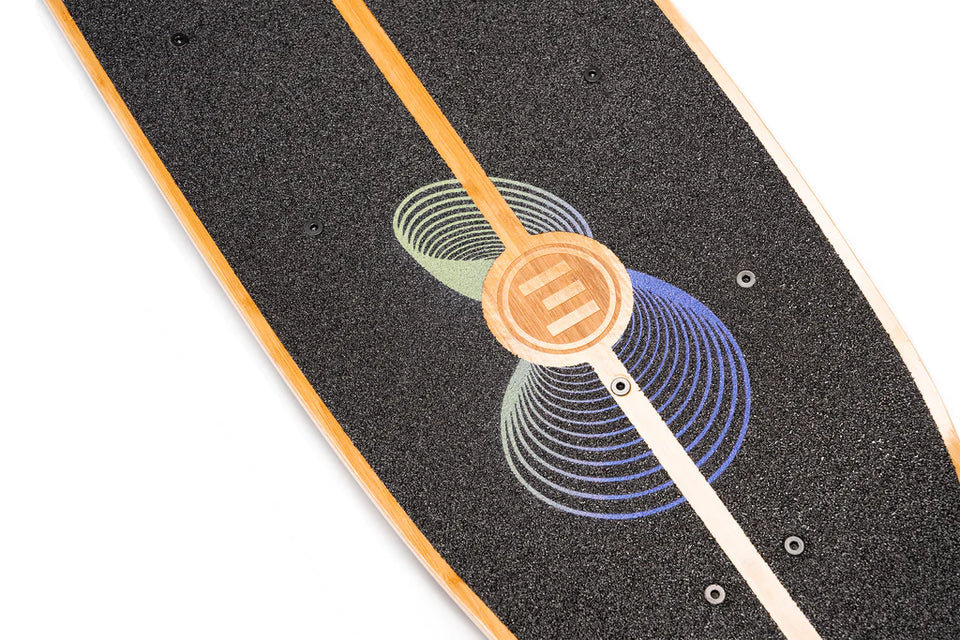 Evolve Onirique
by Evolve
Embark on a dreamlike adventure with the Onirique, a true masterpiece born from the visionary collaboration between Loaded Boards and Evolve. With Evolve's rich 13-year legacy in the electric skateboard industry and Loaded Boards' unrivalled expertise in deck design, the Onirique's ergonomic design is purposefully engineered to enhance your every move while, going up to 25km on a single charge. Derived from the French word for "dreamlike," the Onirique transports you to a realm where exhilaration knows no bounds and transforms every commute into a rad journey.

Functional Design
The Onirique blends a width deck platform, a mild concave, and intentionally positioned flares for stability, responsiveness, and optimal foot positioning in a small package. The flares encourage one foot behind the front trucks and one foot on the short kicktail to keep the rider constantly aware of their board position. A centered stance is also possible for a narrow, surfy vibe. The slight rocker and mild concave, combined with the damp construction, are designed for hours of continuous comfortable riding.

Construction
Crafted with precision, the Onirique features a three-layer bamboo core sandwiched between fibreglass/epoxy layers to provide a lightweight yet robust structure. The top and bottom of the deck showcase bamboo veneers, not only adding to its aesthetic appeal but also enhancing its functionality. Aggressive grip tape is used for increased board hold for both cruising and next-gen e-skate ripping.

Graphics & Shape
Inspired by the elliptical experiments of progressive surfboard shapers like Tomo and Album, the Onirique's performance-driven outline was created to camouflage highly complex curvatures in a seemingly simple and appealing shape. The graphic design by Nanastudio is meant to evoke the dreamlike quality of the deck name and the riding experience. As a finishing touch, the Evolve logo is laser-etched into the bamboo top sheet, showcasing the partnership between Loaded Boards and Evolve in creating this extraordinary e-skate deck.
| | |
| --- | --- |
| DECK MATERIAL: | 3 Ply Bamboo & Fibreglass Layers |
| DECK LENGTH: | 87.5 cm (34.5 inches) |
| WEIGHT: | 9.2kg / 20.2 lbs |
| RANGE: | Up to 25km / 15.5 miles |
| TOP SPEED: | Approx 36kph (22mph). |
| MAX LOAD: | 100 kg / 220 lbs |
| WHEEL BASE: | 71 cm (27.9 inches) |
| TRUCKS: | Evolve Super Carve Trucks - Forged/CNC 30.6cm (12 inches) width, 8mm axles |
| WHEELS: | Orangatang Caguamas 85mm - 80a Orange, 83a Purple & 77a Blue Happy Thane Formula. |
| MOTOR: | Dual 1500 watt (3000 watt total) high performance custom made brushless out-runner motors |
| MOTOR CONTROLLER (ESC): | Evolve Custom Dual-Motor Driver, FOC motor commutation, Bluetooth connection & adjustable acceleration curves |
| BEARINGS: | Evolve Ceramic Precision Bearings |
| BATTERY: | Lithium Ion with Custom BMS. 36 volt, 216 Watt Hours |
| RECHARGE: | 1.5-2hrs with the standard fast charger |
| REMOTE: | Evolve Phaze remote with CNC aluminium-reinforced body. |
| SUITABLE TERRAIN: | Smooth bitumen roads / footpaths / concrete |
| SLIDES: | Yes |
| HILLS: | Up to 30% gradient |
| BRAKING: | Ultra smooth stepless braking control with regenerative recharging |
| AESTHETICS: | Surfy Vibes with a Concave Bliss |
| LIGHTS: | Compatible with E-FOC Prism Strip Lights |
I have a question I need help with.
Watt? Watt-hour? Kilowatt?? WHAT? Gets confusing right? That's OK we can answer any question you may have!
More information please