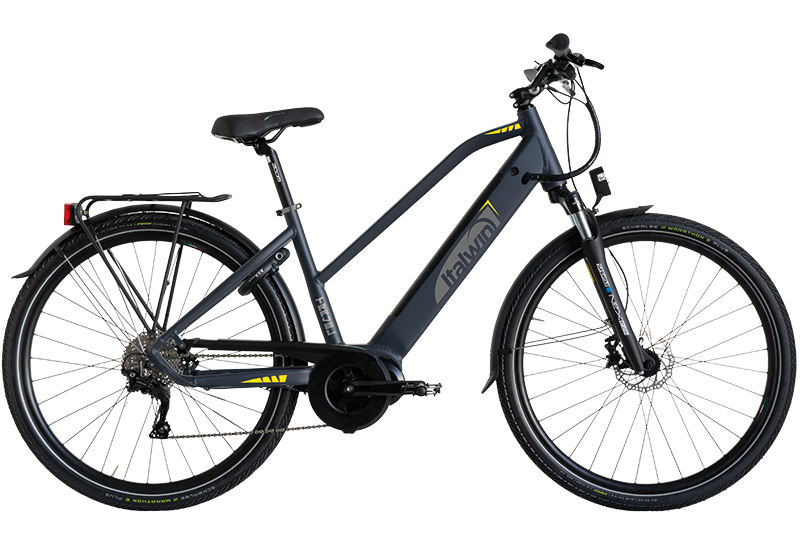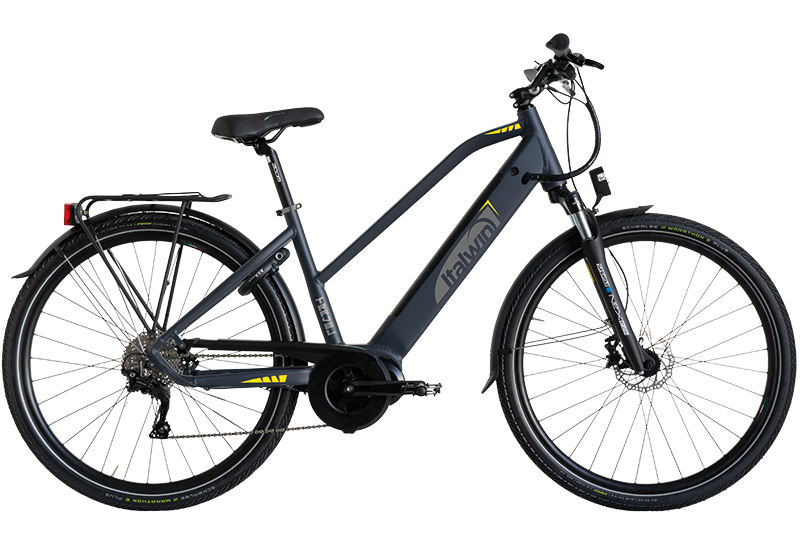 Italwin Travel Mid-Step
WZA9TL128AY
by Italwin
EVERY TRIP IS AN EXTRAORDINARY EXPERIENCE
TRAVEL is the most enjoyable way to explore new roads. This e-bike is equipped with the powerful FIVE F90 drive unit, combined with a 10-speed Shimano Deore gearbox and a removable battery smoothly integrated into the frame with a sleek and clean design. Its components make every trip unique, the Schwalbe Marathon e-plus wheels glide gently on the asphalt, the Suntour fork absorbs any bumps, the new color display keeps you informed every moment about speed and battery status throughout all the journey.
FEATURES
BATTERY
36V - 17.5 Ah. Lithium-Ion
MOTOR
central FIVE F90 250W/90Nm
FRAME
hydroformed aluminium 47x67 cm
DISPLAY
Color LCD: 5 levels of engine assist and soft start device, USB socket, dusk sensor
Integrated waterproof battery
The battery and the charging plug are fully integrated into the frame with IPX5 protection level from water and dust to avoid damage. Easy charging by removing the battery.
FIVE F90 central motor
FIVE F90 is the central engine for a safe and fun ride, both in the city and on trips out of town. Equipped with exceptional boost, FIVE F90 delivers power to deal with slopes up to 30%.
Schwalbe Marathon trekking tires
"No-puncture" tire thanks to the anti-puncture protection. Maximum safety and grip at high speeds and on long excursions. The hi-tech construction materials give a surprisingly smooth glide.
Color LCD display
Color LCD display, which allows to select the assistance levels, activate the soft start and check the battery level. The device is equipped with a USB port to charge your smartphone. It has a dusk sensor, which regulates the luminosity of the display according to light conditions.
TECHNICAL SPECIFICATIONS
Trasmission chain KMC special e-bike
Frame hydroformed aluminium 47×67 cm
Wheels 28″ x 2.15″ Schwalbe Marathon e-plus
Motor FIVE F90 central 250W/90Nm
Weight (excluding battery) 23 kg
Maximum driver weight 90 kg
Brakes front and rear hydraulic disc brake
Saddle Selle Bassano
Front fork suspended and lockable 63 mm Suntour SF NEX E25
Gear 10-speed Shimano Deore
Pedalling sensor torque sensor
Lights front and rear LED Axa
Lock ring lock Abus
Display color LCD: 5 levels of engine assist and soft start device, USB socket, dusk sensor
I have a question I need help with.
Watt? Watt-hour? Kilowatt?? WHAT? Gets confusing right? That's OK we can answer any question you may have!
More information please