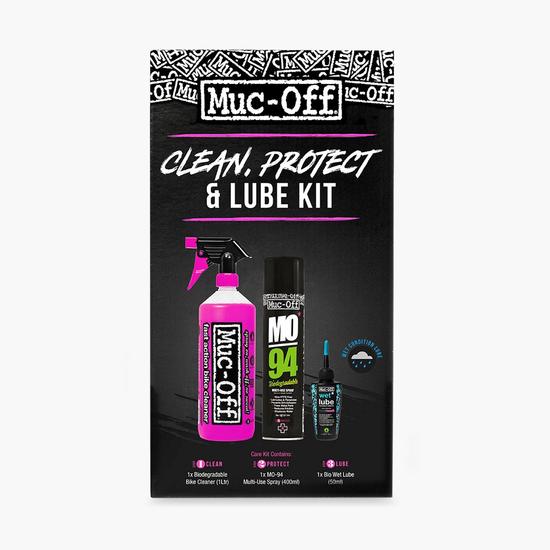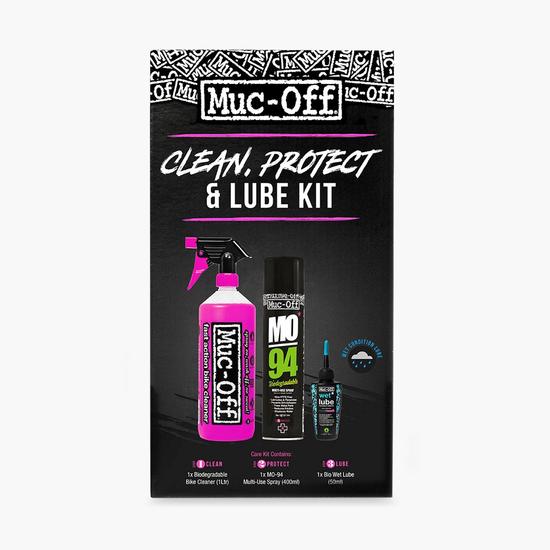 Muc-Off Wash, Protect & Lube Kit
MUC-277090
by Muc-Off
Three of Their most-loved clean, protect and lube products that'll make light work of grime and keep your bike running smooth. An epic kit that makes for the perfect gift for that bike fanatic in your life.
FEATURES

Nano Tech Bike Cleaner

Safe on all parts and surfaces including carbon fibre
Will not harm seals, cables, brake pads or rotors
Safe on anodised metal
Alkaline based and free from CFCs, solvents or acids
Nano Tech Formula cleans on a molecular level

MO-94

Free's seized parts
Disperses moisture to prevent rust and corrosion
Provides light lubrication for moving parts
Reduces metal to metal contact
Prevents dirt adhesion
Cuts down on friction to improve component efficiency

Wet Weather Lube

Ensures silky smooth gear shifts
Reduces friction and energy consumption
Repels water for chain and component protection
Excels in wet, muddy riding conditions
Extreme pressure additives for increased efficiency
Vegetable oil based formula for eco protection
*Biodegradable
Pipette system for easy application
Can be applied to chain, shifters, cables and derailleurs
Ideal for MTB, Road and Cyclocross
I have a question I need help with.
Watt? Watt-hour? Kilowatt?? WHAT? Gets confusing right? That's OK we can answer any question you may have!
More information please