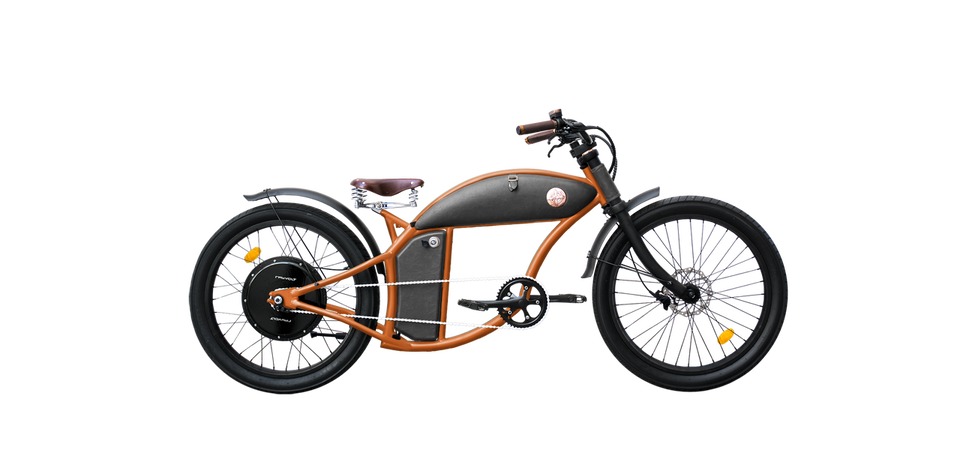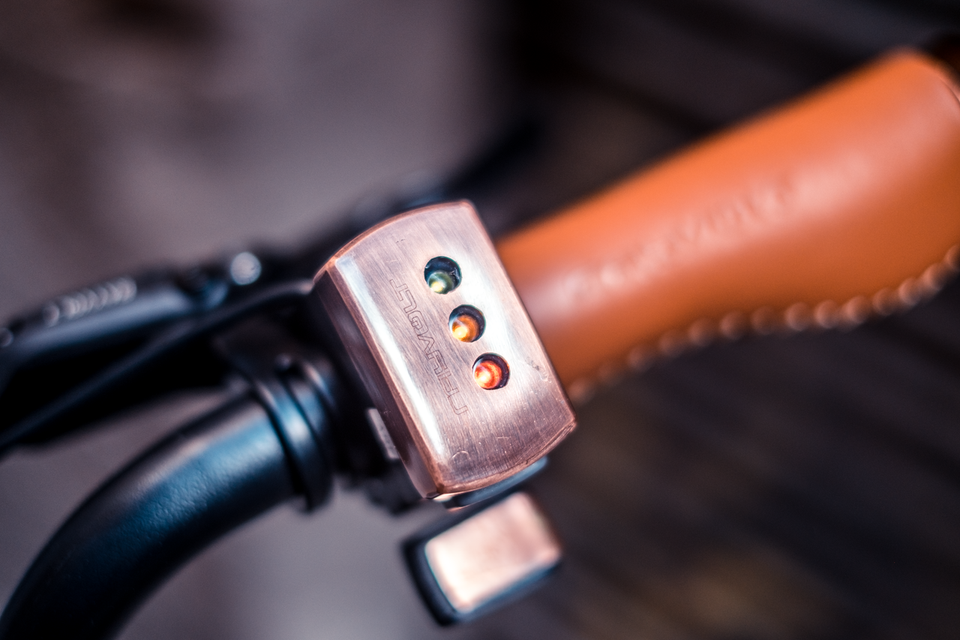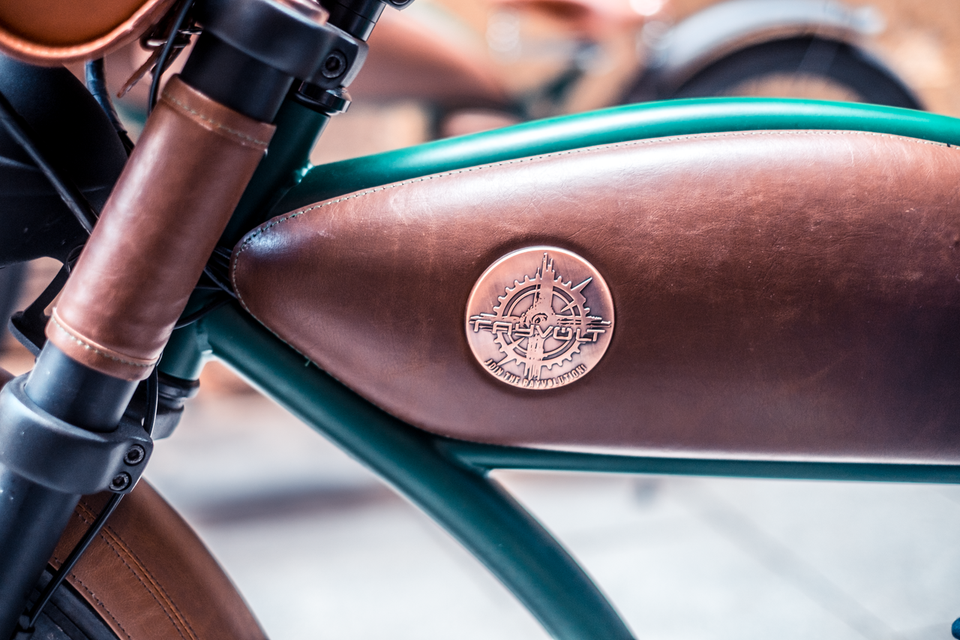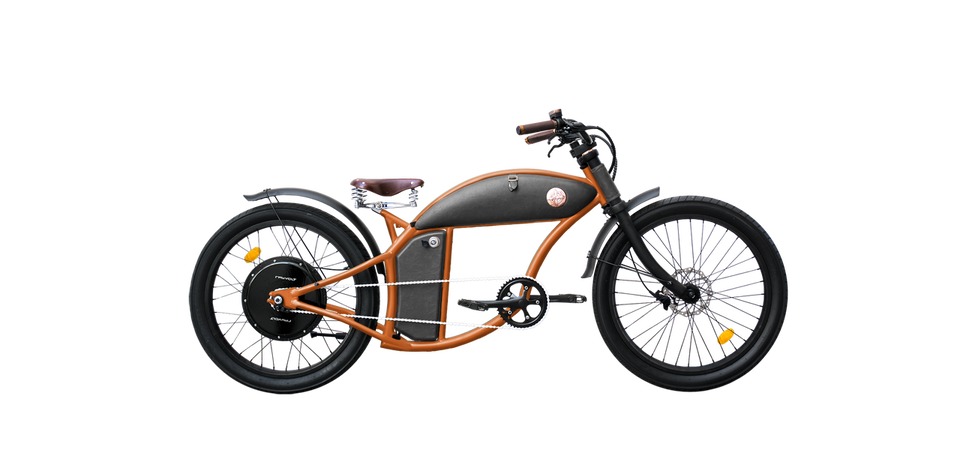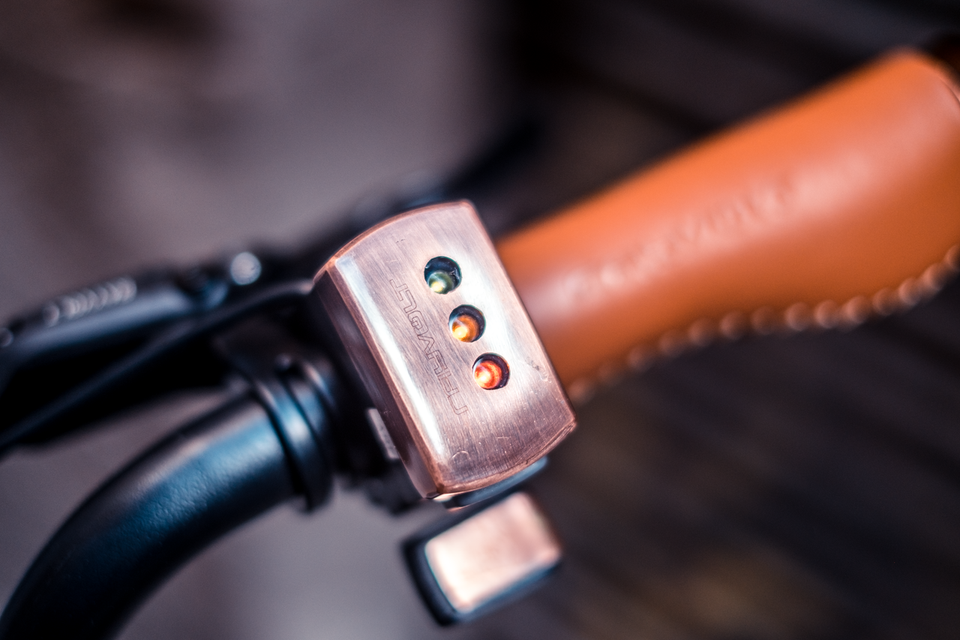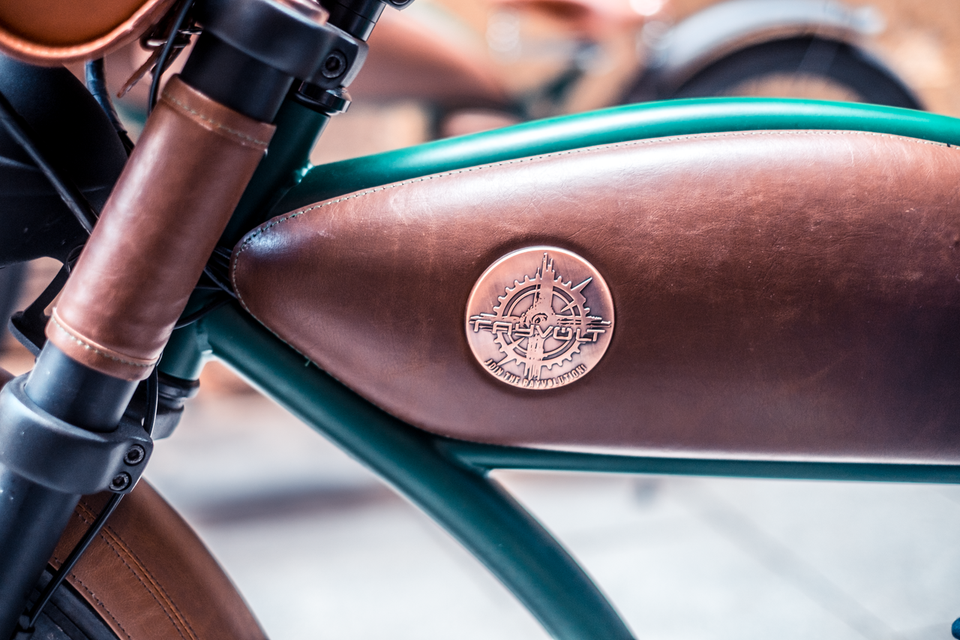 Rayvolt Cruzer Orange SMART Hub (200/400W)
RAY.CRU.ORN.SM
by Rayvolt
With single battery. The Rayvolt Cruzer combines astonishing attention to detail, advanced technological features and beautiful styling....to make it one of the most exciting and breathing taking e-bikes to ride and admire.
The Rayvolt brand originates from Spain where its sole aim is to produce the most beautiful and advanced e-bikes to market. Focusing on using fine leather and copper highlights throughout the bike
Featuring: Rayvolt hubs are a very complex brushless 3 phase dc motor comprising of 48 different copper coils and magnets that are placed on the outermost perimeter of the motor for the best possible torque. The built-in controller receives heat and position data from the coils and within one millisecond computes where to put the next load. Such accuracy produces a Pure Sine Wave (PSW) current, offering unmatched ride comfort: More Acceleration More Response More Torque Less Noise Less Vibration Less Consumption Intelligent Regenerative Brake System We created an electronic braking system, fitted into the brake levers, that sends a data signal to the motor controller that provokes a reverse effect in the motor. This converts torque into resistance using the wheel inertia to generate electricity and recharge the batteries. In simple words, the regenerative braking acts like an ultra-powerful dynamo when the levers are pulled. The intelligent iRBS is linked to EIVA's built-in gyroscope allowing the bike to detect the cycling environment. It then provides the necessary amount of regenerative brake according to the angle of the hill.iRBS paired with the cloud-based iTS allows you to remotely lock your rear wheel. At the core of any electric vehicle, its performance and life expectancy are directly linked to the type of cell used. The capacity of the battery pack also depends on the amount of cells used.Rayvolt uses13 cells in a series to reach a nominal voltage of 48V. At peak voltage, a full charge of 54.6V gives incredible power. We use a minimum of 4 cells in parallel (52 cells in total) or 8 cells in parallel (104 Cells in total). This gives an unmatched capacity of 550Wh and 1100Wh - most of the industry uses 300 to 360Wh.Battery quality is linked to the cells used and also the way it is packed. Using a state-of-the-art battery management system in our packs, each cell is connected to it before delivering the charge. This high-tech design balances the charge between each individual cell and can cut the connection in case of a short circuit. This ensures the best possible performance while making the battery safer. Intelligent Pedal Assist With multiple choices power assistance with gyroscope hill detection Motor aid self adjusts. Dual Sensor Crank Set The Electronic Crank comes fitted with a Load Cell, which measures both the Torque applied to the pedal and the crank rotary speed. A Controller then computes these two values, and with a smart algorithm, provides perfectly smooth power based on muscle activity. The Eiva® is a Rayvolt''s developed software to control, customize and monitor your Rayvolt bike. An Eiva® computer can be purchased and secured mounted to the handlebars, ready to go whenever you are. The software can also be downloaded for use on an existing Android or iPhone. 1. Display 360ºMonitor speed, battery state, MPH/KM Run & essential bike specs 2. Bluetooth bike status monitor the connection between the bike and Eiva® 3. iPas Monitoring Adjust your pedal assistance here 4. SettingsAdvanced configurations Also Technical support chat 5. MusicPlay your music, your way. 6. MapsGPS access 7. InformationDisplay Help Specifications Battery Cover Composite Leather Clad Shell Weight 34kg Chain KMC Extra Long Wheels 26x3 Brakes Rayvolt Oil Disc Brakes with E-Regenerative 10A-50A Tires 26 x 3.0 Crankset Two-Piece Lights LED Headlight and Rear LED Backlight Spokes 13G Rear Hub, Regular 26 For Front E-Drive System Rayvolt EIVA Motor Rims Double Wall 40mm Wide Saddle Vintage Spring Leather SMART Hub 200w - 400w Speed Control Pedal Assist System (PAS) & Throttle Control Battery Samsung Li-ion 38V-10.5A Frame Large Charge Info 54V-4A. 2.5hr Charge Time
I have a question I need help with.
Watt? Watt-hour? Kilowatt?? WHAT? Gets confusing right? That's OK we can answer any question you may have!
More information please